Ecommerce SEO Guide: In-Depth Coverage [2021]
Why Is SEO Important For eCommerce?
SEO stands for Search Engine Optimisation. As the name suggests, it involves optimising your website's pages for several ranking signals –  signal that act as inputs for Google Algorithms, and help improve a site's visibility in Search Engines. 
When done right, SEO can help your eCommerce Business climb up in search engine rankings, driving plenty of organic traffic to your site.
Search has become the default method to purchase just about anything online. And In today's hyper-connected world of smart devices – laptops, mobiles, tablets, and home assistants, we're no longer limited by when and where we can search. 
If an eCommerce business is not being found online in search engines such as Google and Bing – that's a threat to their long-term growth and survival. A good way to start with your eCommerce SEO efforts is to follow a simple SEO checklist.
SEO is critical for every eCommerce business – big or small. That's because unlike Paid Search, you don't pay out of pocket for every site-visit.
While small service businesses can manage to grow through referral-leads, and word-of-mouth marketing (only up to a certain point), E-Commerce Stores do not have that luxury. They require a concerted, strategic Marketing push to thrive and flourish. SEO is one of the most important components in making that push. 
NOTE: For the purpose of this Guide, I will be using the terms "Home Furniture" and "Leather Sofas" to illustrate most eCommerce SEO examples.
What Is The Future Of eCommerce And How Does SEO Fit Into The Marketing Strategy?
Globally, eCommerce Shopping has emerged as one of the most popular online activities in recent years. 
Based on a Statistica Report, in 2019, eCommerce sales worldwide amounted to 3.53 trillion USD ($) and the figures are projected to grow to 6.54 trillion USD by 2023.  Even though these projections are from a time before the World was hit by Covid-19, the Ecommerce Market just keeps growing!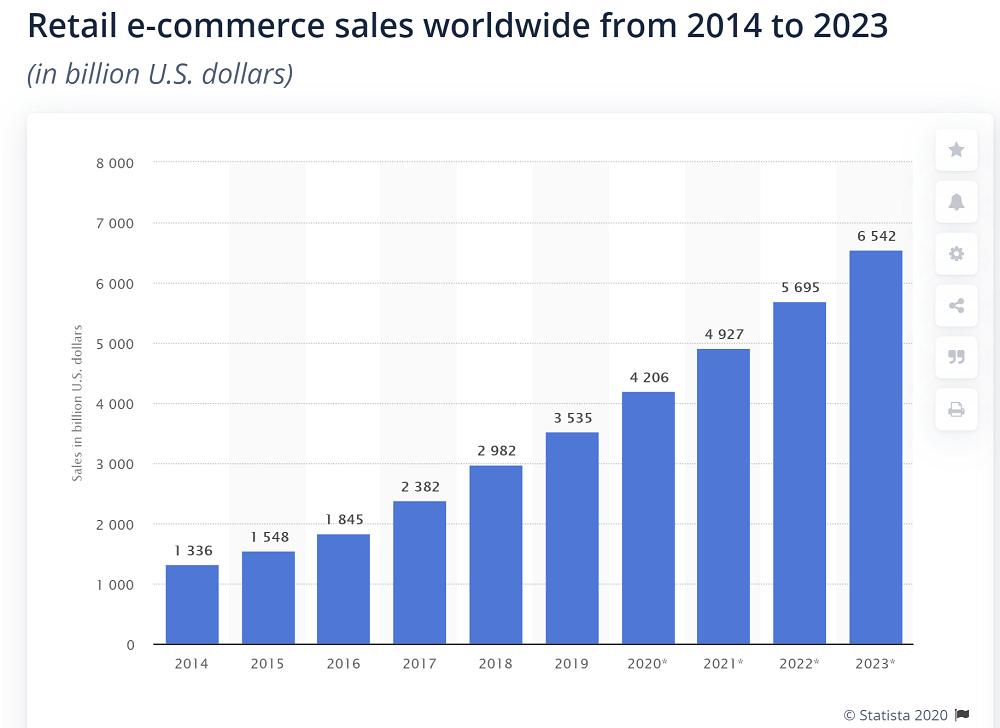 Based on Mckinsey Insights, the impact of Covid-19 on Ecommerce Sales has been very significant. There are massive positive shifts in online shopping for verticals such as Apparel, Home, and Food, ranging anywhere between 15% – 81%.
This growth has exceeded that of retail as a whole, as more and more consumers decide to spend their money online, rather than offline. With brick and mortar shopping taking a severe hit, eCommerce companies' strategies should strongly focus on boosting their online presence.
There are various ways to drive Traffic to your eCommerce Store, but Digital Marketing is a major lever for boosting one's online presence, and every eCommerce Business should make the most of this opportunity.
Under the Digital Marketing Umbrella, SEO is one of the most foundational tactics to get right. Why, you ask? 
Two reasons – First, unlike Advertising, SEO is free of charge, and helps to grow your brand in Organic Search. Second, SEO can have a massive impact on your bottom-line, increasing both your revenue and profitability.
Why Invest In SEO When you Can Easily Get To Page 1 of Google With Paid Advertising?
Paid Advertising and Social Media Advertising are great strategies for new Businesses looking to gain quick traction online or established businesses that are ambitious about capturing market share.
These tactics may empower any Ecommerce Business to get in front of an online audience for their chosen keywords but if you only invest in Paid Advertising, you may end up spending a fortune, over time, with limited results and low conversions to show for it. 
Paid Ads and Organic SEO complement each other, so it is pragmatic to layer both strategies rather than do one versus the other.
SEO has the potential to transform a struggling ecommerce business into a money-making machine by increasing search visibility, leading to more online visitors, and eventually more sales. Here's an eCommerce SEO Case Study to demonstrate this in context. 
Search Engine Optimisation (SEO) and Search Engine Marketing (SEM)/PPC Advertising are complementary tactics that are well-suited to go hand in hand.
Is Google The Most Important Search Engine For eCommerce SEO?
Google is the undisputed leader among Search Engines.
Google's search market share across the World including both North and South America, parts of Asia, Africa, Europe, and Australia is very significant, ranging anywhere between 80% – 98% ( Yes! That massive). 
So, clearly most search marketers focus on Google since its the biggest. Doing well on Google will bring you the most traffic and eventually more sales.
Some of the Google Search Engine Alternatives such as Bing, Yahoo, Ecosia (an environment-friendly search engine), DuckDuckGo (one of the few search engines that dont track you) may have a minuscule market share as compared to Google,  but could offer untapped opportunities, due to much lower competition.
With its deep pockets and some of the World's best possible talent, Google is also the most sophisticated search engine that uses advanced machine learning & natural language processing to rank pages. 
The rest of the Search Engines are simply catching up with Google. As a result, anything that you do to be better on Google will likely have a positive ripple effect on other search engines as well. 
Finally, if you're looking at international sales, it's important that you focus on the right search engine for that country and market place. 
China's largest search engine is Baidu with over 80% market share, and as of this writing, Russia has Yandex, with over 33% market share. So, assess what's best for your international business requirements.
What are the most important elements of SEO for Ecommerce?
SEO is an industry-agnostic strategy, so what works for a small business, will also work just as well for B2B, B2C and eCommerce. 
However, The difference between various industries arises in the level of planning, detailing, type, and scale of work.
Typically, most E-Commerce websites will have pages between a few hundred to several thousand, making SEO a far more time and resource-intensive activity than it is for smaller websites. Also, Product Pages & Product-Related Images are the bread and butter of eCommerce Sites, so optimising them weighs quite heavily in any eCommerce SEO strategy.
Good Site SEO is built upon 3 foundational Pillars – On-Page SEO, Technical SEO, and Off-Page SEO. 
This guide is structured to cover the main components of each pillar.
Section 1: On-Page Ecommerce SEO
Any task that involves working on or improving a website's on-page or internal signals, to improve the site's chances of ranking higher for relevant keywords, is known as On-Page Optimisation. The best thing about On-Page SEO is that a business has full control over their own website. So, to a great degree, they can influence the future of their site's SEO rankings.
On-Page SEO: Keyword Research
People SEARCH when they want to buy basic life necessities – food, clothing, health-related products
People SEARCH when they are looking for all kinds of gift ideas
People SEARCH when they have questions or are unsure about something
People SEARCH when they are considering different alternatives
People SEARCH By Using KEYWORDS they know best.
It's this Intelligence that Companies need to tap into through keyword research. 
Every day, there are roughly 12 Billion Searches across Google, Baidu, Bing, and other Search Engines. It wouldn't be inaccurate to state that Search has become Larger than Life itself!
Search and Keywords are intricately tied to each other, and Keywords are nothing but a summation of people's needs, desires, questions, answers, and more, as they type them into the Search Engines or Online Stores.
Cracking these "short and long-term keyword phrases" as per your industry and niche is the first step in strengthening your SEO armor.
For Ecommerce Businesses, Keywords present a fantastic opportunity to target potential customers at various stages of a Buyer's Journey.
How To Do Keyword Research For Ecommerce SEO?
The top recommendations for finding Ecommerce SEO Keywords vary based on where your business is at in its Growth Journey.
Established or relatively older Ecommerce Businesses have a wealth of keyword data from native tools such as Google Analytics, Bing Analytics, and Google Search Console. They should leverage this wealth of data when formulating a keyword strategy.
New eCommerce businesses that are just starting out may not have reference or historical data to review. 
Wherever your eCommerce Business may be in it's evolution, please know that Keyword research is the MOST IMPORTANT Step in effective SEO.
Some tools that will help automate this task:
If you're a completely New Ecommerce Business:
Google Auto-Suggest with Keyword Surfer Chrome Extension:
This helpful Keyword plugin will provide keyword search volumes within the Google Auto-suggest Bar. You can use this for day-to-day keyword research while surfing the web, to test quick ideas or put together an initial seed list. 
A good freemium keyword tool that allows you to tap into limited search engine data for your chosen country. The tool displays the most popular keywords on top, which usually also happen to be the most competitive ones to rank for.
As seen in the screenshot below, On the left are keywords, whereas on the right are the SERP (Search Engine Results Page) and related analytics. Keywords are further classified into various categories including Suggestions, Related Phrases, Questions, and Prepositions – handy and helpful for a Startup eCommerce Business.
 A well-aggregated freemium keyword tool that provides you a gold-mine of data on 18 countries, from eCommerce Giants Amazon, eBay, and Walmart. Additionally, it captures data from newer platforms such as Etsy, well-known for its unique and vintage gift items.
The Google Keyword planner, which offers free keyword intelligence for businesses that advertise with Google, can also be accessed through this tool. Another way you can access Google's free keyword data is by setting up a small Ad campaign.
Once you pick a Tool, and key in the search term, you should see the top results being searched for in that tool. For the purpose of eCommerce, we'll stick to the Amazon Keyword Tool for now. But it's worth testing a few of the other relevant Tools as well.
Keyword Tool Dominator offers a ton of free information to start with till you're able to transition on to paid tools. The data you gather from here can be used to:

a) Optimise your listings on Amazon,eBay, etc.
b) Use them in your online store when writing titles, descriptions and any site content.
If you're an Established Ecommerce Business:
If you're an eCommerce Store that has been around for some time, and has decent organic traffic ( > 500/day), Google Search Console should be your first stop to play keyword-detective.
Go to your Google Search Console Property. Click the Performance tab, and right above the performance graph, change the date field from the default "Last 3 months" to Last 12 months or more. Next, click on Page, enter your Home Page URL, and hit Apply.
This will show you all the "Queries" that your URL is already showing up for. Don't be surprised if you see high impressions, but very low clicks for certain keywords. That's because your site may have URLs that appear in search results for tons of keywords, but these links may never be scrolled into view.
The important thing to remember is that these are keywords that a specific URL is already being indexed for. Export this data into Excel or Google Sheets, and repeat the process for other pages.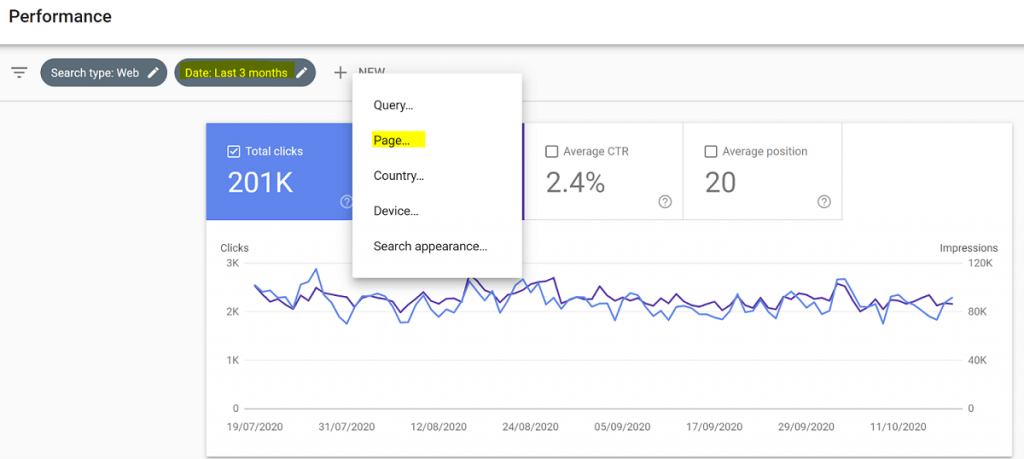 The KWFinder tool by Mangools has a comfortable interface that I've found a lot easier to work with (priced at about $30 per month, its also easier on the pocket!). 
The data seems just enough to get the work done, and is neatly segmented into Related Keywords, Autocomplete Options, and Questions. 
The seasonal trends for every keyword are also easier to spot and understand with the month-wise bar distribution (In the screenshot, see under Trend), versus some other Paid tools.
AHREFs is a well-known but relatively expensive industry tool (priced at $99 for the most basic version, as of this writing). 
Using this tool, you can slice and dice the data to complete thorough keyword research for your product portfolio, and get additional ideas for blog content. It's also very good for competitor analysis and Link-Building research.
As you may note, the data generated from Ahrefs is far more granular (and perhaps overwhelming to some) versus some of the other less-expensive tools.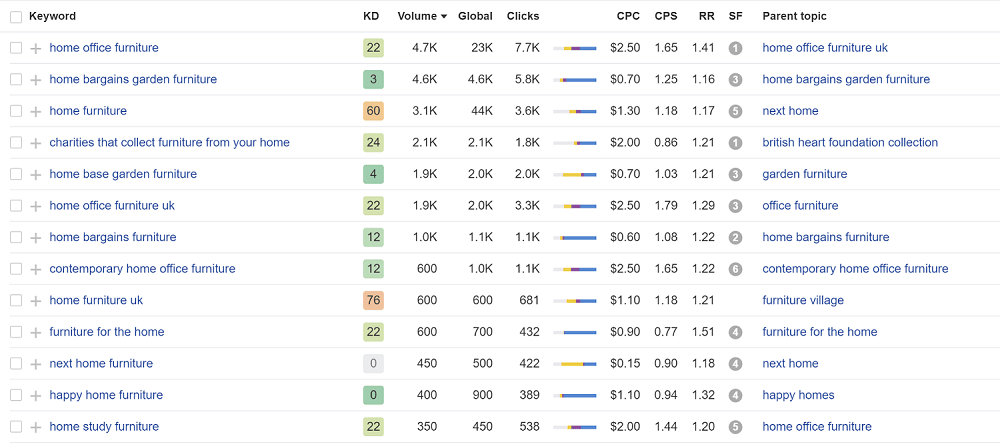 How To Decide The Right Keyword Tool For eCommerce SEO?
There is a wealth of SEO Intelligence tools in the market, and each provider has their own method of pulling keyword search data. Some use machine-learning algorithms (SEMRush), others use clickstream & Google data (AHREFs), and a few others pull keyword data directly from the Google Keyword Planner API (KWFinder, SERanking).

What's important to remember is that search terms and volume estimates provided by tools are merely indicative of trends. So they should be treated as a guideline, not a number set in stone.

The best way to decide the right tool for your keyword search requirements is to aggregate and triangulate data from a few ( 99% of market tools offer a free trial version). Then stick to one or two that you find most comfortable to use, and that fits well into your budget.
How Much Time Does Ecommerce SEO Keyword Research Take?
Depending on the size of your ecommerce product-portfolio, it may take anywhere between a minimum of 3 hours to 20+ hours of work to perform thorough keyword research. 
That's because, in the online World, keywords are the central pivot around which your entire SEO strategy is focused. So, it's not a task you want to treat lightly.
A tag is a small piece of code to gather and organize data on a website. Header Tags are titles and subtitles that should be used to structure and design web pages. 
Maximising the value of Header Tags is an important SEO tactic as it helps search algorithms understand the document structure of each page on your website. These Tags also tell search bots how the various text blocks on your web page are connected. 
This information is used to rank pages from among an index of billions of pages.
Header tags range from H1 to H6 starting from the most important (h1) to the least important (h6). H1 is popularly referred to as the Title tag and is the most significant of all header tags.
For an E-commerce Store selling hundreds or thousands of products, it's important to stagger header tags properly on all the categories, products, and blog pages.
In the example below, you can see how this online Furniture Store has staggered header tags across their "Living" Category Page.
Based on keyword research you conducted in an earlier step, map category and product-wise keywords to different pages of your website. 
Title tag, H1, H2, and Image Alt Tags are the most important tags for eCommerce On-Page SEO.
Add these different tags in a way that accurately represents the content of your page, without over-stuffing keywords.

EXPERT TIP: Put in most of your effort into the Top-level pages namely the Home Page, and Category-Level Pages as they are more likely to rank in Search Engine Results for high-volume, commercial-intent keywords. Then move onto your product pages. 
How To Optimise eCommerce Title Tags for seo?
Use Primary Keyword In Title Headings
Make sure to add the primary target keywords in your Page Title Tags. That's because the Title is what will show up in Google's Search Results. 
Example – If you're in the Business of selling Home Furniture and have  "Leather Sofas" as a Sub-Category, make sure to add the exact term along with any variants in the Page title.
Use Power Words To Make Your Headings More Impactful (wherever possible)
Power words are words that may spark an emotional trigger in your website visitors' minds. This is turn will likely lead to favorable responses such as clicking your site's link in search results or taking an action once on the site. 
A few common examples of Power Words that may apply to eCommerce can be words such as Luxury, Discounted, and Designer. 
Examples: 
Luxury Home Furniture, 
Discounted Sofas,  
Designer Home Furniture
Please bear in mind that H1 Title tags are prime-SEO real estate. So, if there are variations of your primary keywords with higher search volumes, it may be more sensible to use them, instead of power words.
Quantify Important Selling Points To Inform and Appeal To Site Visitors
Add quantification to your Title tags by using prices, number of products (if it's a significant number), or anything else that makes sense for your eCommerce store.
Examples:
Prices starting £59.99
Select from 30,000+ products
0% Finance
How To Optimise eCommerce Meta-Description Tags for seo?
A meta description is a short yet important summary that appears below your page title, in search results.
If the search term you've typed into Google is present in the meta-description, it'll be clearly BOLDED in search results. 
A punchy meta-description can sometimes make up for a dull title, but if they're both well-optimised, that's a recipe for higher click-through rates on your search results.
The Meta-Description Tag in itself isn't an SEO ranking factor, but it enjoys prime search engine real-estate, so use it wisely, to draw attention to your eCommerce results page. 
TARGET KEYWORD: Use the target keyword and related phrases in the meta-description
CATEGORY DEFINITION: For a category level page, describe the category in the first sentence or two of the meta-description
HIGHLIGHT USPs: Use any relevant Unique Selling Points (USPs), e.g. – Free Delivery, 50,000+ products, 0% Financing Options, Interest-free credit, and so on
CALL-TO-ACTION: Use Calls To Action in the meta-description, e.g. – Browse from our collection of 1000s of products, Buy 1 Get 1 Free
OPTIMISE FOR LOCAL SEARCH: If you operate in a specific geography, optimise your meta-tags for location-specific searches. e.g. Home Furniture in [Insert Country, City], etc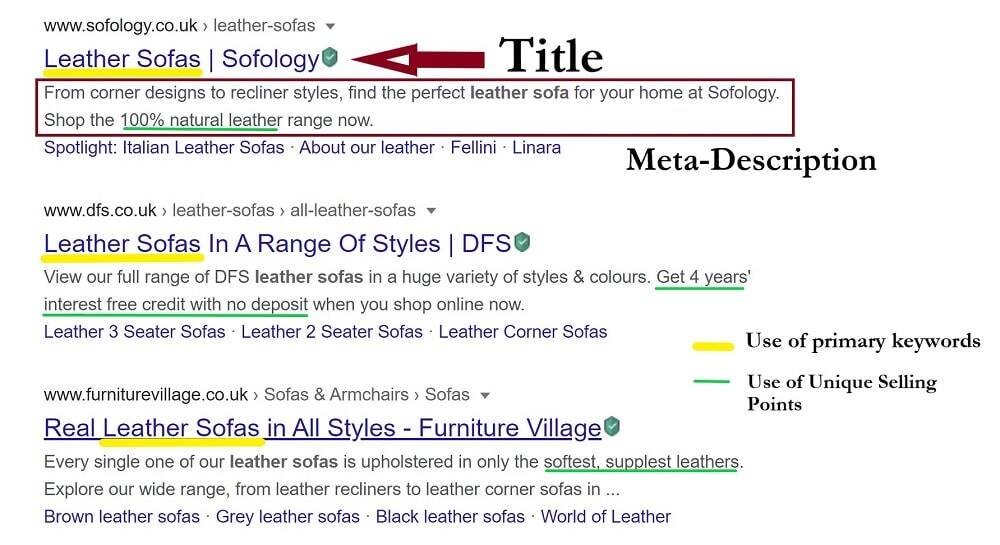 On-Page SEO: seo fRIENDLY urls
URL stands for Uniform Resource Locator. 
It is typed into a Browser's address bar and tells the specific browser (Chrome, Firefox, Internet Explorer and so on) how and where to find the web page. It is made up of several parts as shown below:
Protocol: http:// or https://
Domain Name: www.examplesite.com
Path (Directory): /category
Path (Filename): /product-page
How To Optimise Site URLs for eCommerce SEO?
Though a minor ranking factor, a URL is easily visible in the browser upon clicking a link and is the top-most visible element of a web-page.
When you're building your eCommerce website or optimising an existing one, it's advisable to spend time considering and creating SEO-friendly URLs. 
Best Practices for creating SEO-friendly URLs
Search Engine algorithms do consider a web page's URL (especially the path) when deciding a website's relevance to the keyword search. 
So, ensuring that your site URLs are keyword-rich without being keyword-stuffed can be a good best practice to follow.
Based on Google guidelines and industry best practices, keep your site's URL structure clean and simple, as much as possible.
top Tips For Keeping The URL Structure Clean:
Keep the URL slug for every category and product page logically organised – You can do this by using language and words (instead of numbers or IDs) that are understood by humans.
Use hyphens instead of underscores when using multiple words in the URL slug – That's because anything separated by a hyphen is considered a separate word.
Don't stuff keywords into your URLs to the point where they start to look spammy
Ecommerce site URLs tend to be longer than other Businesses. This is mainly due to a large number of product categories and/or sub-categories.
As per Google Search Advocates, there is no theoretical URL length that site owners need to adhere to but they recommend keeping site links to lower than 2000 characters (roughly 300 words) to keep things manageable and to avoid looking like spam to users.
In reality, URLs in Browsers get truncated to about 55 characters, so keeping them within those limits is a good business practice.
Below is a screenshot capturing Matt Cutt's (Google Search Advocate for nearly 17 years) response to a question regarding URL Length from the PubCon Conference, 2008. 
Even though this was a long time ago, the basic reasoning about excessive keyword stuffing in URLs still holds true to this day. In fact, in today's super competitive SEO landscape, it may not be inaccurate to hypothesise that Google's algorithm penalises excessively long URLs.
EXPERT TIP: Please note that many prominently ranking websites such as Amazon and Ebay are the worst offenders and have the most poorly optimised URLs. Such sites have millions of pages and based on their brand value and clout, they may be able to get away with such practices. But for 99% of small and mid-sized eCommerce stores that isn't a good model to follow.
Ecommerce websites today are far more elaborate and complex than ever before. Many sites have cluttered navigation, rolling banners, unexpected pop-ups, and other distracting elements that can overwhelm, confuse, or put off many visitors. 
This issue is further compounded on Mobile screens with limited screen real-estate. As a result, many site visitors prefer to use the Search Bar to quickly find what they're looking for. 
Optimising the Site Search Functionality is often an underutilised opportunity, to offer value and a good experience to site visitors.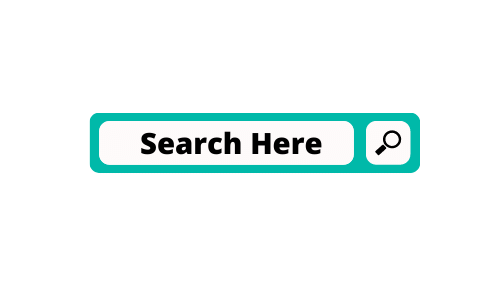 Reviewing "query strings" that are being typed into the Site Search Bar can offer a gold mine of information for any Ecommerce Business.
Keep your Search Bar easy to find and follow a few other best practices to optimize the site search function.
How To Find and Use The Site Search Data Effectively?
You can find keywords that users type into the Search Bar in Google Analytics, under the Behaviour Reports. Follow this path to access the Report: Behaviour > Site Search > Search Terms.
This data will build over time based on a Site's age, popularity, and traffic, so if you're a new business, give it some time to build up.
Use the Analytics Site Search Data to plan and execute the following 3 Tactics:
a) Improve the content on your Category and Product-level pages based on what users are typing into the search bar
b) Use the data for paid advertising and social media advertising copy,
c) Finally, leverage the search terms that visitors are using in your email marketing campaigns
On-Page SEO: Site content
Good Content is like butter – The ever-green breakfast staple that makes everything taste so much better!
The importance of website content cannot be overstated for On-Page SEO. 
For an eCommerce Store, On-Page content may be divided into the following categories:
1. Home Page and Other Key Pages
2. Category Pages
3. Product Pages
4. Blog Content
How To Optimise Ecommerce Home Page and Other Key Pages?
Main Page or Homepage is one of the most important pages on any Business website. Not only is it likely to be the most popular landing page, but is also the one that can influence a visitor to engage further or move onto a competitor website.
The other key pages for a shopping site include those containing important customer service information such as the Delivery page, Order-Related Financing, and important FAQs.
Make sure to add a satisfying and reasonable amount of main content for all these key pages – so it helps both the Website visitors and Search Engines.
The amount of content that qualifies as satisfying or adequate depends on the quality and purpose of the page itself. 
Remember that it's not about your Business or your product, it is really about your potential customer – the problems they're having and the answers they're searching for.
The first rule for content-creation on key pages is to explain all Brand and Customer-related information as simply, persuasively, and clearly as possible. Aid this process by using primary keyword phrases based on keyword-mapping conducted during the keyword research step
The second rule for content-creation on key pages is to analyse top competitors in Search results. This step helps you identify any potential content gaps that you may want to address
Below is a screenshot of a Top Bathroom Furniture Brand that dominates in UK Search Results. They have close to 1500 words spread across the 6 different tabs shown in the image.
How To Optimise Ecommerce Category & Product Pages?
Category Pages on large Ecommerce Sites come in different flavors. Some contain a ton of content such as the sub-categories, listing information on hundreds of on-page products, any discounts, internal links, and much more. Others may have a more clean, uncluttered layout.
Depending on what's important for your brand, and the growth stage you're at, this may vary.
For Ecommerce Category pages, the primary focus should be on writing compelling content that adds value for SEO while converting site visitors, and adding relevant links to other related sub-categories, based on-site structure.
For Ecommerce Product Pages, providing detailed information is key. This includes
Labeling every product with a detailed title, including key phrases
Adding Good-quality images with alt-tags
Adding relevant product USPs
Embedding product reviews (where applicable)
Adding Videos or 3D Views, wherever applicable
How To Optimise Ecommerce Blog Content Pages?
Blogs have the potential to greatly improve Brand awareness and capture visitors for top-of-funnel and mid-funnel search queries such as "Home Furniture Buying Tips" or "Grey Furniture Ideas".
Searchers typing in these phrases are mostly looking to understand and learn at this stage. Appearing high in Search results for such early-stage funnel queries will help establish your Brand's authority and trust. Here are some tips for Blog Content Optimisation:
Use primary keywords and secondary keywords multiple-times and naturally, throughout an article
Stagger all Header tags appropriately
Use jump navigation for Q&A styled Blogs, allowing users to find specific information quickly.
Use keyword-rich alt-tags for blog-images, relevant to the topic and article content
How To Optimise Your Ecommerce Site For Multimedia?
Multimedia can be a strong differentiator in an increasingly competitive online landscape. 
Images are the lifeblood of eCommerce Businesses, so optimising Images for Search is one of the most crucial steps for eCommerce or Image-heavy Businesses.
Besides Images and Text, embedding Videos and 3D views into product pages will positively impact site engagement and improve dwell time (the amount of time a Google Searcher spends on your webpage).
This not only helps improve site SEO, but can be an incredibly powerful tool to help convert visitors into customers. 
Product Videos, shown in context, can be great story-telling devices besides being visually stimulating. In general, videos are known to improve a Brand's trust quotient and are also discoverable in Social Media feeds.
Many Fashion & Apparel sites use videos quite effectively, showcasing models walking a short ramp, dressed in the clothing being sold. 3D views are also an interesting rich media format that helps end-users visualize space requirements and are quite relevant for Large products such as Home Goods and Furniture.
Section 2: Off-Page Ecommerce SEO
Off-Page SEO refers to all and any activity outside of your E-commerce Business website, that can help you rank higher in Search Engine Results. Off-Page SEO is a combination of search engine listings, local citations or directory-links, and Backlinks from other sites around the web.
Off-Page SEO: Google My Business and Bing business Listing
Google My Business and Bing Business are free Business listing services that allow companies to create their profile and appear in local search results. These two Search Engines are the most notable in terms of traffic volume (excluding Baidu in China), so it's logical to list your Ecommerce Business in both.
Local search results, also called the local pack (since it's a pack of 3-4 Businesses that may show up for a search), are results that appear for people who search for businesses and places near their location. 
Just to illustrate, the local search results for "Buy Home Furniture" will be very different in say London versus Birmingham.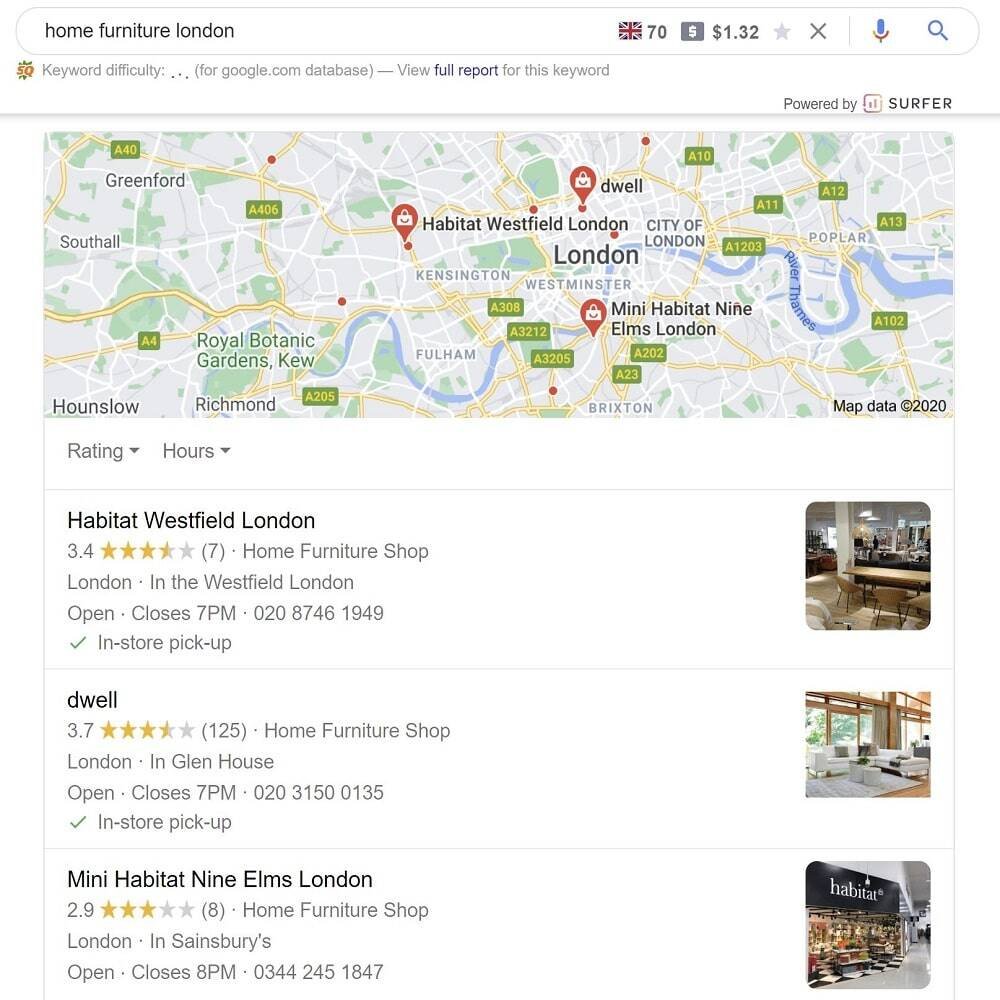 Optimise Your Ecommerce Google My Business (GMB) Listing
Make sure to create and complete your GMB listing 100% by following these top tips:
Add a Business description and primary and secondary categories for your Business
Add relevant products ( and any related services)
Make your business stand out with as many good product images with keyword-rich Titles
Keep important Business data such as timing updated at all times. This is especially true if you are an E-commerce Brick and Mortar Store
Link all Brand Social Media profiles including Facebook, Instagram, Pinterest, YouTube, and Twitter
Develop a strategy for reaching out and getting customer reviews. Reply to all reviews professionally, but reply responsibly (especially) to any negative reviews.
Optimise Your Ecommerce bing Business Listing
Bing is reportedly the second largest Search Engine after Google, in the US, Europe and parts of Asia, with a market share of 9.7% in the UK. If you already have a GMB listing, the process is fairly easy.
You simply have to migrate all the data from GMB into Bing. Once you log-in and give the required permissions, Bing will do the rest for you automatically. So, the key to Optimising the Bing Business Listing is to ace your Google My Business Listing first.
Off Page SEO: Optimise Directory Listings
The top Directory Citations you should optimise for may be classified as First-Tier, Second-Tier, and Niche-citations. First-tier citations have immense authority in the eyes of Search Engines. These comprise the likes of Yelp, Yell, Foursquare, and a few more. Second-Tier and Niche Citations are secondary citation sources that may not do much for eCommerce Organic Search but are good to have.
Download our free and comprehensive list of Global Directories that are a MUST have for your eCommerce Business listings.
Off Page SEO: Link Building
Link Building is an essential SEO activity for most Businesses but is definitely the most challenging and time-consuming. I've listed the lowest-hanging fruit opportunities to start with.
Generally speaking, link-Building is a time-intensive activity, so unless you're committed to doing it all in-house, it's a job best left for Link-Building Experts and Specialist Agencies.
1. The easiest way to build links is to reach out to industry partners that you already have a Business relationship with
These include the following:
Your Suppliers – Get featured on their "Retail-Partners/Retail-Outlets" pages
Your Distributors
Any Wholesalers
Any Contractors
Any other non-competing but complementary Business Leads or Contacts, e.g – Home Furniture and Home-Wall Papers can be separate complementary Businesses
Your In-House Marketing Team can reach out to and collaborate with bloggers who have some online traction and are interested in developing or reviewing content about products related to your niche. 
Make sure to ask any bloggers to share screenshots of important site metrics such as their site – traffic-over-time, and average-time-on-page, instead of vanity metrics such as the number of site subscribers or number of Facebook likes on a post. 
Separately, inspect their site's domain authority and overall profile strength through paid tools such as Ahrefs, SEMRush, and Spyfu. 
Most bloggers will review your product or products for a fee, or in exchange for the product itself. 
Giving away free samples isn't feasible for every eCommerce Business, so it's important to do some due diligence on a blogging site, before agreeing to a fee. 
If the site has decent domain authority, a clean interface, good traffic numbers,  and has relevant topical content, it's worth investing money towards this option.
3. Make a List Of Websites That Link To Your Industry Competitors
Compile a list of such sites and reach out to them with a similar Link-worthy resource to your site. You can find such sites using Paid Link-building tools such as Ahrefs or Sistrix.
Once you have such a list, it's a matter of determined and tireless outreach to acquire backlinks from these sites. It can be a massive time-suck but is perhaps a necessary evil for most Businesses today.
Most such sites will happily link to you with a follow/no-follow link in exchange for a fee, depending on their domain authority, site traffic, subscribers, etc. Link-Building has become a massive industry whose end-products (links) may or may not always deliver results (better search rankings) for a Business.
4. Find a Business In Your Industry Or a Related Industry That Has Dissolved
Companies going bust is much more common than one might actually think. In the UK, you can search for any Business Name with the Companies House.
Once you have a Business with the dissolved status, you can take the root domain and search for it in a tool such as Ahrefs. All Backlinks to any such domains are dead links now that will 404.
So, it's easy to compile a list of such websites and plan an email outreach strategy to the site webmasters to acquire new links.
Section 3: Technical Ecommerce SEO
Technical SEO refers to the optimisation of a website's technical foundation including crawlability, indexability, site performance, architecture, and more. Ecommerce websites, especially stand to gain a lot from Technical SEO due to their large size, ranging anywhere between hundreds to tens of thousands of pages.
Technical SEO: Keep Your Site Safe with an SSL Certificate
Have you noticed how sometimes certain websites show up with a RED WARNING in the browser address bar? 
Any non-secure website starts with an Http. Secure sites on the other hand start with https. Think of them as a set of rules for transferring all kinds of files on the Web. HTTP stands for HyperText Transfer Protocol, and the additional "s" in https stands for "Secure". 
An SSL certificate is what enables your website to move over from the non-secure HTTP to secure HTTPS.
Many cybercriminals exploit unprotected/non-secure communications to trick your users into giving up sensitive information or installing malware. As an Ecommerce Business, you must always protect your users' sensitive personal information and other website communications data.
Making your eCommerce site secure by implementing an SSL secure certificate tells Google and other search engines that you're serious about preventing any malicious attacks on sensitive data that travels between your website and your users' browsers. 
Moreover, Google has confirmed HTTPS as an SEO Ranking Factor.
You can easily buy an SSL certificate for your domain from your Hosting provider or several other SSL-providers.
Technical SEO: Improve Your Site Crawlability and Indexability
CRAWLABILITY is the act of Search Engine Algorithms (Bots) finding a page on your website to analyze its content. In order to find relevant content on an eCommerce site, the website's information stack should be in good-health and well-organised. This means that any redundancies, dead/expired content must be removed/redirected, crawl errors fixed, and any non-secure internal content must be updated.
Google's main priority while crawling is to ensure that they have the latest information & the most relevant search results. Google does set an undisclosed crawl-budget based on a site's popularity, frequency of change, and any site-wide events such as migrations (which will likely trigger an increase in crawl budget due to all the changes), so it's important that site owners optimise their eCommerce store for better crawlability.
INDEXABILITY is the storage of every page and information related to a website within the search engine's database. You can easily check the number of website pages that are currently present in Google's index by putting "site: examplesite.com" in the Google Search Bar.
If you find a discrepancy between the number of indexed pages versus the total number of pages, it's time to investigate the potential causes for such errors.
Crawlability and Indexability must work flawlessly to help optimise a site's Technical SEO.
How To Fix any eCommerce Crawlability and Indexation Issues?
To troubleshoot any indexation and crawlability issues, Use a Site-crawler Tool such as Screaming Frog (It's free for up to 500 URLs) to check for site-related errors. Further, be on the look out for any of the below issues:
1. PAGES BLOCKED BY ROBOTS.TXT
Robots.txt is a simple text file that describes how you want the search bots to crawl your site. You can block certain parts of your site from being indexed to save bandwidth and server resources. Some of these blocked pages on an E-commerce site include the shopping cart, reviews, sign-in pages, wish-lists, any pages with search query strings, and so on.
However, modern-day Content Management Systems (CMS) may sometimes include unnecessary or damaging directives, that can completely exclude parts of your site from being crawled. So double-check that your robots.txt file isn't harming your site's crawling and indexing.
The robots.txt file lives at the root directory and can usually (but not always) be found at examplesite.com/robots.txt.
Below is a screenshot of the Amazon UK's robots.txt file.
2.  IMPORTANT PAGES SET TO "NOINDEX"
Ecommerce websites have a lot of pages that are generated dynamically, based on user preferences. These include any filtered pages, duplicate pages, and site-search pages. Such pages must always be set to "Noindex" as they deliver no value to users or search engine bots, outside of a specific search. 
However, for E-commerce sites with hundreds of thousands of pages, sometimes important pages may end up being set to the noindex directive. If an important page or multiple pages are erroneously set to no-index, they will not be indexed in Google's database.
You can check this in Screaming Frog by sorting site pages based on indexation. Alternatively, you can export the file into Excel and filter pages by their indexation status.
If you find pages that have been erroneously no-indexed, it's important to change their status, so they get captured in the Google index.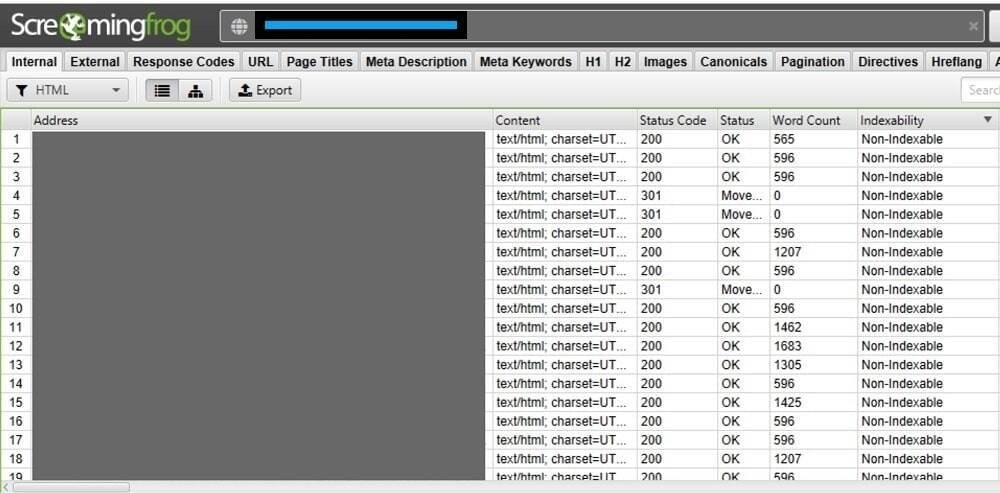 Technical SEO: Sitemap To Provide Google A Clear Page Index
A sitemap is a file that lists down all pages on your website including product pages, videos, images, customer-service information, and more. Search Engines such as Google and Bing read this file to crawl your eCommerce website more intelligently.
The sitemap file allows search algorithms to find and index the important pages and information on your site. It also defines the canonical version of each page, wherever applicable. This helps your site's Search Engine Optimisation efforts since you've clearly defined all content you'd like the crawlers to find, discover and index, without throwing in any surprises.
A single sitemap is limited to 50,000 URLS or 50 MB.
This limit doesn't matter for small E-commerce sites that may use a free XML Sitemap Generator, a site-platform plugin (WordPress, Drupal, Shopify all provide the option to create a sitemap through plugins), or Freemium tools such as Screaming Frog. Once generated, the sitemap can be submitted to Google, Bing, or other Search Engine Consoles.
Medium to large eCommerce sites with more than 50,000 URLs need to split their sitemaps into multiple files. Create a sitemap index (a file that lists out all the sitemaps) and submit that single index file to any Search Engines (Google, Bing, Yandex, Baidu)
Technical SEO: Build a Robust Site Architecture
A well-optimised site will have sturdy and logical information architecture.
What Is Information Architecture?
Information Architecture refers to the way in which content may be structured, organised, and classified, in order to make it easy for users to find any information, and complete certain tasks. It is the basic structural foundation for any website. The complexity and scale may vary based on the size of a site, but the principle of applying a clean structure and proper layering is essential.  
Why Is Information Architecture So Important For Ecommerce?
Good Information Architecture offers simplicity, ease Of navigation and Usability. You want a logical page flow from the home page, all the way down to a category, product, and any other pages.
You must aim to build a hierarchical structure, similar to a tree, that allows for easy movement and interlinking between categories, subcategories, and products. 
You want as few clicks as possible to any given page.

EXPERT TIP: Remember the Four-Click Rule. Based on Mobile Best Practice Guidelines by the W3C Consortium, users should not have to click more than FOUR TIMES  to reach their target on any website. A navigation structure too deep can frustrate users and make search-engine crawlers quit. So, keep your most prominent content no more than four clicks away. [Go ahead and test this out on a few well-known Ecommerce websites ]


How Will Information Architecture Add Value to Ecommerce SEO?
The end goal of good information architecture is to catalog all of your site's digital assets in a neat and methodical way. This makes it easier for search engine bots to crawl and find pages (thus helping SEO) which will help rank your site for Relevant Primary and Secondary Keywords, and provide a great user experience (UX).
Some Of The Ways You Can Decide The Optimal Site Architecture For Your Business Are:
Team-brainstorming with Internal Stakeholders namely Sales & Customer-Services. These teams interact the most with customers and are likely to know patterns that will assist and benefit this process
Conduct User-tests by asking users to evaluate a working model of your site architecture,
Review top-ranking competitors' navigation, as they have likely spent a lot of time optimising their site architecture, so there's valuable information to be gleaned from such an analysis.
Technical SEO: Optimising Your Site's Speed and Performance
With feature-rich themes, bloated-code, large image sizes, and third-party plugins, Site Speed is a pervasive issue across modern-day websites. Moreover, Google has mentioned site-speed as a confirmed ranking factor in its search algorithms.
The issue is a particularly challenging one for Ecommerce sites.
What Are Some Of The Top Speed Related Issues with Ecommerce SEO and solutions To Address Them?
ISSUE: Heavy Use Of Rich Media Including Product Images, Banners, Videos, And So On
Images and contextual Multimedia can dramatically improve user experience, push site-visitors a step closer to buying from you, and differentiate your Online Store from competitors. However, they are also the worst offenders when it comes to slowing websites down. A large number of poorly optimised or non-optimised images can consume a lot of server resources while loading, compromising the site speed and performance.
SOLUTION:

OPTIMISE IMAGE FILE SIZE
Be meticulous about optimising Image files and all other multimedia resources such as Banners, Videos, Infographics, GIFs, and anything else. Of all Image formats such as JPEG, PNG, and WEBP,  JPEG is the most popular and saves images in smaller file-sizes, helping them load quickly. Even though the image quality suffers slightly, in most situations, the average site visitor can't tell the difference.
For high-end eCommerce sites, if the product demands superior quality and color depth, using PNG may be the more pragmatic option, as it offers greater color precision.
To optimise both PNG and JPEG files, you can use the FREE tools TinyPNG and TinyJPG. You can also use ImageCompresser to further reduce file size for both PNG and JPEG images.
LEVERAGE BROWSER CACHING
Caching is a way to save data from any site you visit, on to your computer's Hard drive. So, if you visit the Site again, it's easier to pull that data from your machine's saved copy, instead of fetching it from the server.
To enable caching, you will need to define the length of time for which any resource on your site needs to be cached. This can be done by modifying your site's .htaccess file. Seek help from your Site developer or a Technical SEO Specialist to enable browser caching.
ISSUE: Large DOM (Document Object Model) Size
The way you structure your web-page elements is called DOM. For Ecommerce sites, the DOM size may get very large due to the number of products per page, and site code.
The non-technical answer to dealing with large page size is to load fewer resources to limit your site's DOM (Document Object Model). This includes:
SOLUTION:
Cut down on any unnecessary plugins that add additional code to your site pages
Minify Javascript/CSS and move some of the scripts to the Site Footer (wherever possible) 
Reduce the number of images on a page (wherever possible)
The process of storing your site's content online is called Hosting. The special computers that help store your content online are called servers. When these servers are slow to respond, this will cause slow load speeds and other performance-related issues due to Slow Server Response Times.
Usually, slow server response is a consequence of a Shard Hosting Plan. Such plans allow multiple sites to share space on a single server, resulting in cost-efficiencies, but compromising site performance.
SOLUTION:
DEDICATED HOSTING
A dedicated hosting environment ensures that you have the entire server to address your site's requirements. This includes loading site pages quickly, supporting third party marketing & automation software, ensuring smooth payment processing, and more.
USE A CONTENT DELIVERY NETWORK (CDN)
A CDN is a network of computers, a geographically-distributed group of servers that work together to help deliver content more speedily and efficiently, regardless of a visitor's location. Using a CDN is an efficient technique to serve your eCommerce site content to visitors and potential shoppers from all over the World.
Ecommerce Technical SEO: responsive Web Design
Smartphones are the preferred browsing devices for more and more people today, and those numbers are only rising. In an increasingly digital world, a person's phone is the last thing they look at before sleeping, and the first thing they flip through, after waking up.
Further, many people also prefer tablets as a perfect compromise between a laptop's large screen and a phone's limited small screen. Cross-device shopping behavior is at an all-time rise, so it's important to deliver a consistent experience for the same page across various devices. This is known as Responsive Web Design.
Unfortunately, people's attention spans on smaller devices such as mobiles are as small as their screen sizes. This makes it a priority for your eCommerce website to adapt to the size of any mobile device it is being viewed on. 
Creating pages that look good and friendly on all devices helps your site's SEO. How so? Users will have a better experience and will be more engaged with such sites. This in turn will improve your site's dwell time, a factor Google considers in search-rankings.
Optimising for Responsive Design is a job best done through the collaborative team effort comprising a developer, a UX Specialist, and an SEO. Now, getting that many heads on the problem may not always be possible, but aim to have a team of at least two people working on this important issue. On many modern CMS solutions (WordPress, Shopify, Wix), this task is easy to automate through theme functionality or third-party plugins.
Ecommerce Technical SEO: Website's Crawl Budget
Crawl Budget is an "SEO industry-defined term" that refers to the number of pages that Google bot can crawl or is instructed to crawl on a site. Based on the official Google Webmaster Central Blog, while crawling is necessary for ranking search results, it is not a ranking signal.
Also, based on a recent Google podcast titled "Off the Record" unless your website is over 1 million pages, you don't need to worry about Google's crawl budget. That being said, optimising your website's code, technology stack, and quality of site pages should always be a high priority.
This Guide is an attempt to synthesize the most important and actionable learnings for a small to mid-sized eCommerce Site comprising up to 300,000 indexable pages in the Google Search Engine.
I've personally used all of the above techniques with great succes for eCommerce clients.
If you manage to apply some or all of the advice in this article, based on your eCommerce industry niche, I can guarantee that you will see a big jump in search visibility rankings, in anywhere between 4 months to a year.
Once your website's SEO wheels are set into motion in Google's Search Engine Results Pages, the increase in organic traffic and the resulting increase in Sales and Conversions, can feel truly rewarding and worth all the effort.